From the owner, Sandy Gelrod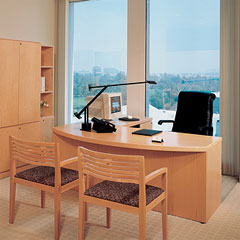 People ask me, "Sandy, why should I use Facility Services?" I like to tell them...
You can work directly with me.
I will be working with you one-on-one and will do whatever it takes to make it a rewarding experience. Facility Services is here to minimize the problems associated with setting up, changing, expanding, or moving an office. I've been doing this for almost twenty years and I know my clients will tell you I take good care of them. It's nice to know when you need something you can always talk to me.
My focus is price and service.
I don't have a huge office/warehouse complex with large sales and administrative overhead. Thanks to a streamlined operation, I am able to provide you with bigger savings and better service.
I offer everything you need.
In addition to procuring new furniture, services include custom millwork, carpeting, artwork, furniture repair and refinishing, systems reconfiguration, and reupholstery.
I offer you a greater selection of manufacturers.
You can choose among the very best manufacturers of panel systems, casegoods, filing and storage, conferencing, and accessories. So just about everything for the office and healthcare environment is at your fingertips.
I help you get things done.
Setting up an office properly takes coordination and knowledge. If you're working on a tight deadline, I know which manufacturers are most consistently on time. Even if your situation is complex, I have the experience to make sure the right people are communicating so that the process comes together seamlessly.
My job is to make your job easier.
I never lose sight of the fact that you depend on me to keep your business running smoothly.
I look forward to working with you!