Design and Procurement Services
There's no mystery to the design and procurement process . .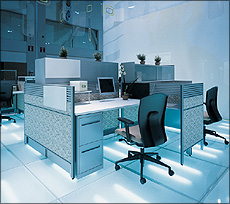 .
We work with you to develop a realistic budget and find the best mix of products for your requirements. Whether it's an entire office of new furniture or a single chair, we will find you the best value within your price range.
There are so many manufacturers to choose from that the process can become confusing and overwhelming. Buying the least expensive chair or file cabinet will always cost your company more money in the long run. On the other hand, spending more than you need to is a waste of your company's money. The goal is to find the best value—the combination of quality and price that represents the best choice for you.
In other words, it's our job to make sure you get what you need. In our experience, clients who work with our recommended guidelines get excellent final results. We will work around the clock for your satisfaction!
Here are some of the services we offer . . .
Office Setup
Office Design
Furniture Additions
Space Planning
Office Relocation
Systems Reconfiguration
Workflow Improvement (Consultation)
Installations
A furniture project is not a success unless it's properly and professionally installed. The customer rarely thinks about this when selecting furniture or when choosing a company to supply it. When Facility Services is the company you've entrusted with your new furniture, it's our job to think about it and make sure your installation is done right. Whether it's as simple as placing casegoods or as complex as building dozens of modular workstations, we don't leave the job until every screw is tightened, every desk is leveled, and everything is in its place and in proper working order.

Since its inception, Facility Services' installations have been in the capable hands of Tom Rowan and Dynamic Installations. Tom has been installing and servicing commercial furniture for over thirty years and he takes great pride and satisfaction in doing the job the right way. As does Facility Services, Tom and Dynamic Installations understand that their reputation is on the line with each project and they take their responsibility to the customer seriously.